New Delhi - October 22, 2008 - India launches moon mission in Asian space race.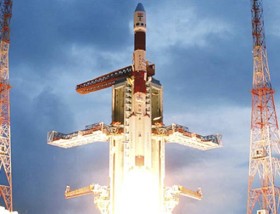 India launched its first unmanned mission to the moon on Wednesday, following in the footsteps of its Asian rivals China and Japan, who already have crafts in orbit around the moon.
Chandrayaan-1, which means "Moon Craft" in ancient Sanskrit, launched from the Sriharikota space centre in southern India early on Wednesday morning in a two-year mission aimed at laying the groundwork for further Indian space expeditions.
Scientists, clapping and cheering, tracked the ascent on computer screens as they lost sight of the rocket in heavy clouds.
Indian Space Research Organisation chairman G. Madhavan Nair said, "This is a historic moment for India."
He said, "We have started our journey to the moon and the first leg has gone perfectly well," adding that they hoped to "unravel the mystery of the moon."
Chief among the mission's goals is mapping not only the surface of the moon, but what lies beneath.
"It is a remarkable technological achievement for the country," said S. Satish, a spokesman for the Indian Space Research Organisation, which plans to use the 3,080-pound lunar probe to create a high-resolution map of the lunar surface and what minerals are below. Two of the mapping instruments are a joint project with Nasa.
To date only the US, Russia, the European Space Agency, Japan and China have sent missions to the moon.
How do you see the space mission affecting India's global standing? Will this boost space research in India? Or should the government give more importance to social issues in the country? Your comments please.....
INDIA'S FIRST MISSION TO MOON