MUMBAI – 31 July 2007 - An Indian court jailed Bollywood star Sanjay Dutt for six years on Tuesday for acquiring illegal weapons from gangsters involved in India's worst bombings that killed 257 people in 1993.
Dutt, 48, was cleared of conspiracy charges in the serial blasts in India's financial capital of Mumbai, but was found guilty of unauthorised possession of an automatic rifle and a pistol.
"It was an eminently dangerous act," judge Pramod Kode said. "With the punishment of a minimum of five years and maximum of 10 years it can in no way be a minor offence or of a less grave nature."
Dutt's trial has transfixed India and fans of Bollywood, the world's largest film industry by ticket sales. He has millions of dollars riding on him in films under production.
The actor is the most high-profile among 100 people, mostly Muslims, found guilty in the bombings trial, one of the world's longest-running court cases.
The 1993 Mumbai attacks were ordered by India's most wanted man, Dawood Ibrahim, a Muslim, to avenge the razing of a 16th-century mosque by Hindu zealots in 1992 and subsequent Hindu-Muslim riots in India, police say.
Ibrahim and his top associates have not faced trial as they fled the country soon after the blasts, police say. Ibrahim is believed to be hiding in Pakistan, but the government in Islamabad denies this.
Dutt's lawyers had urged that the actor, who found fame playing gangsters and anti-heroes, be set free for his good behaviour during his bail.
But the court rejected the argument.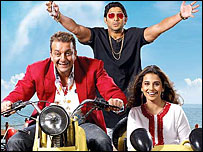 Son of legendary film couple Sunil Dutt and Nargis, the heavy-set actor, is expected to appeal.
We at Librahitech hope that the Apex Court in India would dispense a lighter sentence for our dear Sanjay Dutt. And, Madani,a suspect of the Coimbatore blasts, walks free in Kerala. Perish the thought. There is definitely something wrong with the legal system practiced in the Republic of India.