New Delhi - Feb 26, 2007 - Italian businessman Ottavio Quattrocchi's son, Mr Massimo Quattrocchi, has opened an office of his Italy-based investment company, CI Partners, in Bangalore. CI Partners describes itself as the "advisory company of Clubinvest Sarl, an investment company based in Luxembourg that started activities in March 2005 (after the UPA government came to power)." CI Partners itself is headquartered in Milan.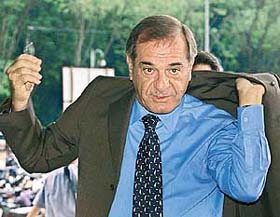 Mr Massimo Quattrocchi is a regular visitor to India and was recently sighted at a five-star hotel in New Delhi around the time Italian Prime Minister Romano Prodi was visiting. CI Partners claims to have "in-depth experience of international markets, particularly India and as such, is in a position to play a key role in helping investee companies set up a commercial/ productive presence or linkup/exit with some of the leading groups in the country (sic)". It gives its main address as 19 Via Carducci, Milan (Italy), and, under what it calls "geographical preferences", lists India, Italy, Spain and Switzerland. CI Partners is Mr Massimo Quattrocchi's company and has an office running from Bangalore.
Mr Massimo Quattrocchi, 33, reportedly also has "good" connections in India and is a regular visitor. He himself had worked as a freelance consultant for investors in the energy, real estate and tourism sectors earlier. He was with Antfactory in Italy, which was liquidated in 2001. Before that he was an economist with the World Bank in Washington and has done his M.Sc. in development and international relations from the London School of Economics. His father, Mr Ottavio Quattrocchi, while in Delhi, had struck up a close friendship with the late Prime Minister, Rajiv Gandhi, and his wife Sonia Gandhi. Their children too were reportedly good friends.
For two long weeks, India's most famous Italian, Ottavio Quattrocchi, charged with bribing senior Indian officials and politicians in the sale of a Swedish gun called Bofors 20 years ago, has been cooling his heels in preventive custody in a small town in the north of Argentina.
For just as long, the Indian government has known that this is where Quattrocchi currently is. According to Indian law, both bribe-giving and bribe-taking are offences. And under normal circumstances this would have been an open-and-shut case, with New Delhi asking Buenos Aires to extradite the Italian businessman.
Free Flash Games